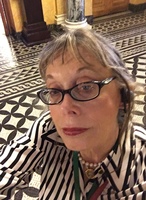 Suzi K. Edwards-In Her Words
"For me, art is an adventurous exploration into image and technique. I love the challenges of mixing media and creating something exciting and new. I see ceramics as a marriage, albeit sometimes a rocky one, of creativity and science. Magic happens in the kiln, when a simple lump of clay, with the application of glaze and colorants can emerge triumphant as a remarkably beautiful object, or crack and craze and end up in the trash!
I delight in the design and fabrication of site-specific projects. I enjoy the task of designing for a particular location and purpose, for both public and private settings. I love to see how art can enhance an environment: create interest, encourage conversation, elicit a brief pause from present moment reality.
The blending of glass mosaics and ceramic elements creates a sculptural, dimensional and highly tactile surface. Mosaics have endured for centuries, From the earliest know mosaic, the 4500 year old "Standard of Ur" found in Bagdad, to the modern renaissance of mosaics and architectural ceramics that have flourished in public settings in the last few decades, these enduring artworks delight the viewer and create a visual history in perpetuity"